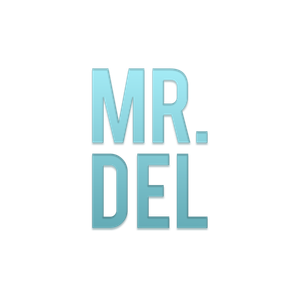 What does it mean to be all things to all people? And can it really be accomplished? If you want the answer, get to know Mr. Del. Artist, minister, and motivational speaker, Del has grown from music to ministry to mentorship and he does it all in a charismatic and genuine manner. When the world first met this Memphis, Tennessee native, Mr. Del, he was a member of the Oscar winning, platinum-selling group Three 6 Mafia. Deciding to rededicate his life to Christ, he left the group and the rest is…well as they say, history. Still passionate about music, Mr. Del began to rap the message of salvation and through his form of witnessing, he has led thousands of souls to Christ. Widely known as the Hope Dealer or Hip Hop Apostle, Mr. Del has become a trailblazer using unconventional, non-traditional ways to share the message of the Kingdom of God to an unchurched generation.
In the genre of Holy Hip Hop, Mr. Del has had several albums to debut in the top 20 Billboard Gospel Charts. His first solo album, The Future (EMI Gospel), was released in 2005 and debuted at No. 15 on Billboard's Gospel Chart. Hope Dealer, released in 2007, featured American jazz musician Kirk Whalum and peaked at No. 47 on Billboard's Gospel Chart. Thrilla (DMG/Universal Records), was released in 2009 and debuted at No. 2 on the Christian R&B/Hip Hop Chart. He received a Grammy award nomination for Best Rock Gospel Album of the year and 2010 GMA Dove Award nomination for Rap/Hip Hop Album of the year. His songs and music have also hit the big screen with a song placement in Will Farrell's movie The Campaign, and an appearance in and film scoring for the movie, 2016: Obama's America. With a large catalog that includes 9 studio albums and countless collaborative albums, he has revolutionized the music industry with a new sound, characterized by banging 808s and a powerful message.
As the CEO of Dedicated Music Group, where he leads a label and mentors aspiring and established artists, Mr. Del believes wholeheartedly in giving back. He is credited to discovering and producing artist's such as Canton Jones, Mali Music, and now rising stars Murk and D. McGhee. In this capacity, Mr. Del creates opportunities for his artists and helps them flourish. He has a gift for cultivating the purpose and vision for a person's life and this translates beyond the music. This artist, mogul, and speaker shares his wealth of music industry experience through The M.A.P. Course (Music Artist Playbook), which can be accessed online and is a great tool for new artists working to build their careers.
But Mr. Del is not one to brag on his music accolades without tying them to his end goal of saving souls. He considers his greatest accomplishment to be that he has helped get thousands of people saved. As a speaker, Mr. Del moves in a form of ministry that appeals to he streets and those like him. He uses unconventional, non-traditional ways to share the message of the Kingdom of God to an unchurched generation. Ministry followers all attest to him being genuine, saying that his transparency and his love for people draw them to him. His form of hood evangelism, ministry without walls, is how he can go out and transform places, spread the gospel and have Kingdom influence. His dedication and commitment to the Kingdom is evident and his selflessness ingratiates others to him. Mr. Del is also highly accessible to others and reachable. Often wearing a sweat suit and sneakers or a casual outfit, and not coming with all the extra, Mr. Del attracts those who just want the pure, unadulterated Word of God. Because he not only looks like them, he has firsthand knowledge of their pain, struggles and challenges; and because he has experienced triumph in His own life, he is able to share his personal testimony. and lead by example.
When Mr. Del enters a room, he can change the atmosphere. His hearty, infectious laugh, bright personality and engaging look helps him shape to wherever he is DJing, speaking, ministering or doing music. He becomes just like water, shaping to whatever he does, wherever he is…in the pulpit or the streets to be able to effectively impact that environment. God has given him such influence that he can go somewhere people don't know him and people make a life decision to get saved. Mr. Del gets excited by people hearing the Word and being so moved to tears that they give their lives to Christ. He is often amazed that people will immediately sow their appreciation by giving, demonstrating one of the greatest Kingdom principles there is. Mr. Del is currently focused on releasing his final album MD 20/20 to the world, which will consist of 20 songs, including 10 street tracks and 10 soul tracks. This project will recap his 20 years in ministry and bid a proper farewell to his beloved fans. MD 20/20 Volume 1 will be available everywhere on 11/20/2020.